Greetings from Shigeki Saitoh, CEO
Beyond Venture Capital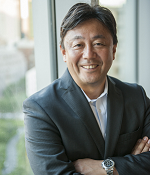 In Japan, venture capital industry is still in very challenging situation when it compares to that of the US one.  However, succeeding to the will and passion of funder of the company who established basis of Japan venture capital industry, all members with same mission correct together at Strategic Investment Partners, Inc. (SIP).  The reason why all SIP members stick to the venture capital industry is that venture capitalists play a key role of innovation creation together with entrepreneurs and that the innovation, which means prevailing of new life style and business model based on the new technology application, will be the locomotion of development of capitalism.
SIP's goal is not mare making our portfolio companies public on the stock market. In the Japan stock market, there are many microcap venture companies that cannot go into the expansion stage of its development after its IPOs. SIP will continuingly support this stage of the companies to its innovative business more matured until institutional investors are enough to invest them since their business becomes strongly requested by the society. In addition to that, SIP think highly of exploit of new growth business area with strong large enterprise as its next strategy.
SIP stick to 3 initiatives; (1) Innovation, (2) Growth, (3) Risk Financing, and we go pursuit these initiatives even if the business category go beyond the venture capital business one. SIP's motto is hands-on support for our portfolio companies and clients.  For us Hands-on means making a best effort exactly same level of entrepreneurs. Considering the needs of each companies, we support our portfolio companies to be independent grown up companies through the neutral investment money from global institutional investors in result to attain high ROI for them.
In the period of after-bubble economy, we became aware that profit from speculation by hedge fund can never build up the real development of capitalism.  We SIP thinks that only new business creation build the sustainable development of capitalism, and it is only possible in conjunction with global entrepreneurs who believe in this belief.