Shigeki Saitoh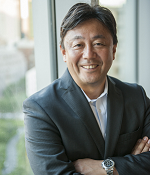 Shigeki is CEO of SIP and uses his extensive, cross-sector business experience in driving value for portfolio companies.
Shigeki started his career at NTT, where he specialized in sales and marketing of the NTT telecommunications network for enterprise clients.
After receiving his MBA from MIT, Shigeki joined Netscape Communications Corporation, where he helped spread and develop the internet portal business for the Japanese Market.
He later joined Digital Garage Inc. as Representative Director and COO, where he leverage his experience in IT and business development to lead the company to a successful IPO. During his tenure at Digital Garage, he also developed a new method of business incubation called "sponsored incubation", which lead to the development of several Japanese companies including Kakakucom Inc..
Shigeki was a Professor at the Graduate School of Digital Hollywood University from 2004-2011.
Shigeki has published two books including "Shocks in digital conversion" from Nikkei BP Planning, "Innovation Ecosystem and New growth strategy" from Maruzen Publishing, Inc.
Graduated from The University of Tokyo with a degree in economics and an MBA from the MIT Sloan School of Management specializing in advanced technology business incubation and management.